SALSA, BRC & Food Hygiene Ratings
Jenny is Third Party Auditor trained and has experience in auditing a variety of sites from manufacturing, to retail stores through to restaurant kitchens.  Each require different approaches and Jenny is able to use her years of experience and auditing to adapt to different environments and requirements.
Fine Food Consultancy can offer:
Pre-audit inspections
Internal auditing
Audit coaching
SALSA/BRC preparation
Why audit?
Protects the brand and consumer
Ensures customers maintain confidence in the food safety programme and supply chain
Accepted and specified by many retailers, manufacturers, ingredients companies, food service organisations and raw material processors worldwide as part of their supplier approval process
Designed to reflect best practice and provide a common sense, risk-based approach to product safety and certification
Strengthens due diligence
If a business is prepared and confident about food safety, the only cost will be that of the audit
Reduce waste, complaints, recalls and rejected products
Use certification as a marketing tool to grow the business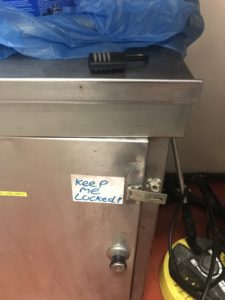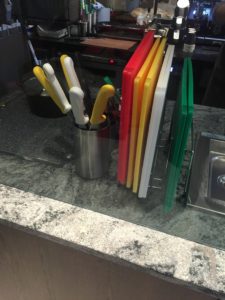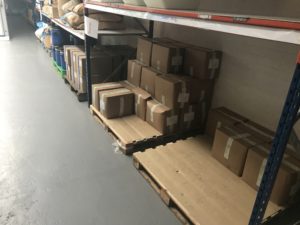 SALSA- Safe and Local Supplier Approval
SALSA is the food-safety standard written by experienced food safety experts to reflect both the legal requirements of producers and the enhanced expectations of 'best practice' of professional food buyers.
The aim of the standard is to provide affordable food safety assurance certification and support for small and micro businesses in the United Kingdom.
We can support you on your journey to achieve this accreditation and make sure you have all of those boxes ticked and confidence in your policy, processes and procedures to produce safe, legal and high-quality food/drink.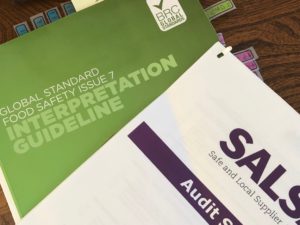 BRC Global Standards (British Retail Consortium)
The BRC Global Standard for Food Safety is the number one global market leading GFSI scheme and if you are a manufacturer, producer, food retailer or food service provider consumer protection will be your number one priority.
Having been part of the BRC standards working groups Jenny has had a real insight to those upcoming changes and developments of the standards and V8 of the Food Safety is due to be published later in 2018 with implementation expected in 2019.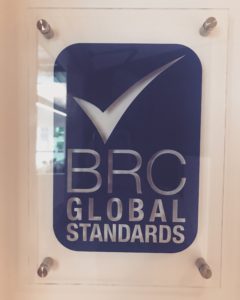 Food Hygiene Rating Scheme
The food hygiene rating or inspection result given to a business reflects the standards of food hygiene found on the date of inspection or visit by the local authority. The food hygiene rating is not a guide to food quality.
The information provided on businesses is held on behalf of local authorities participating in the national Food Hygiene Rating Scheme in England, Northern Ireland and Wales or the Food Hygiene Information Scheme in Scotland. Although not currently a requirement to display the result to the public this is currently in consultation and could be made a requirement.